The birth of LycaonBoard originated from the image of Lycaon dog, a highly social animal whose speed can reach up to 44 mph for 10 to 60 minutes while chasing the prey. These traits of Lycaon dogs are perfectly in line with the brand concept of LycaonBoard. That is to produce affordable electric skateboards that run smoothly faster and further as the Lycaon dogs for e-skate lovers. Committed to providing quality skateboard build and performance, LycaonBoard has constantly making efforts and will continue to strive for improvement.
Until now, we have launched two versions of Lycaon electric skateboards: G and GR. These two models emphasize different aspects and functions of boards. Compared with portable and lightweight Lycaon G, Lycaon GR has improved its range and battery power, making it adequate for long distance road trip. The detailed technical parameters are listed below for you to have further understanding about Lycaon GR.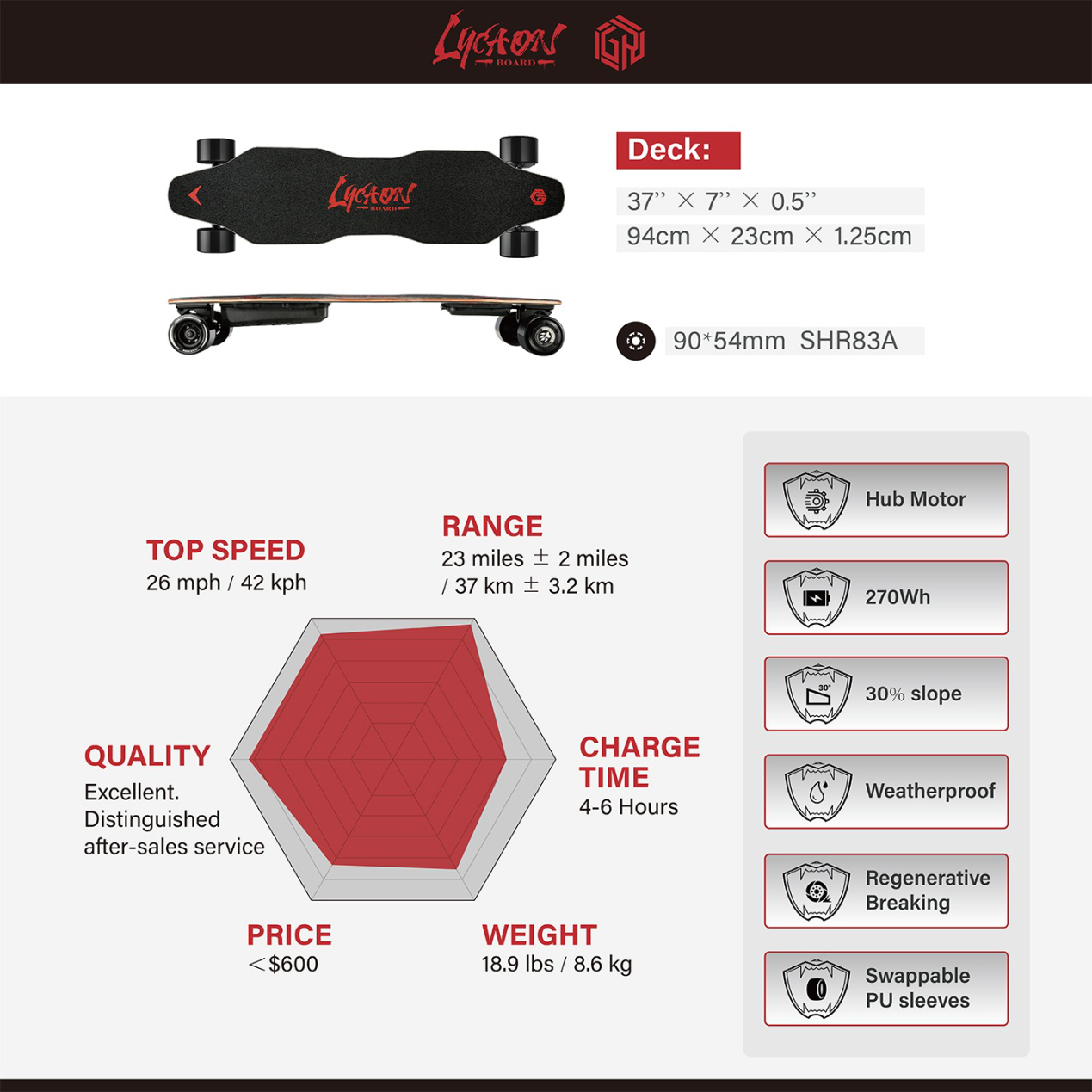 As a new arriver in the electric skateboard industry, we may not be well-known enough. But we are confident to say that you can hardly find an electric skateboard with the same performance like Lycaon GR around such a favorable price. For some popular brands, the price for an electric skateboard can be a huge sum of money. But with Lycaon GR, you can enjoy the performance and affordable price. Our saying may not be trustworthy enough for you. Let's see what other people say about Lycaon GR.
Brandon Yu: I do actually really like this board. I was excited to receive this board at first based on the advertised specs on their website and upon receiving it, I actually had a pretty good experience. For top speed, I actually hit over 26 miles per hour. I ended up hitting 27 miles per hour on my GPS app. In the range test, I did about 21 to 22 miles. I believe my board started dying around 21.5 and I pushed the last point five miles back home, which wasn't too bad because it is a hub motor board.
Group ride potential: Since I know this board was a 20 mile board basically, I went to a group ride. The group rides usually have charge spots every 7 miles or so. I ended up not really having to charge that much. I only charged at one charge spot for maybe like an hour so. And then for the second charge. I didn't charge it all because I knew I still had a range enough for me to get home after the ride.
Final thoughts: It's a great budget electric skateboard and has the power and range to do whatever it is you need to do on electric skateboard. Whether it is to travel a couple miles or even going for a long joyride, it can do it and it can do it fast, 26 miles per hour. That's no joke. That's a lot faster than a lot of boards on the market right now. So I would say Lycaon board is actually a very solid competitor to other budget electric skateboards in the market, in the industry right now.
Since around this price, many other popular boards might not have as much range like Lycaon board, might not go as fast as the Lycaon board. There are others that match it or go a bit over but sacrifice on other things. You have to do the research on what you want more and you have to know your own personal preferences about what specific specifications you gravitate towards.
https://www.youtube.com/watch?v=FZjWSUeB5CE
Ronnie Sarmiento: It's got decent speed, very good range. It's a pretty good value. My friends who are new to this thing actually tried it out. They preferred the ride of the LycaonBoard out of all my boards. So for beginners, this could be a pretty viable option. Considering its price, it's a decent budget board for beginners.
Deck: It's pretty. I like the black and red color scheme for sure. It's got like a snappy flex. It's not like a full bamboo flex. It gives a nice sort of balance for carving and speed. One thing I like about the deck is that it is a bit more aggressive than other boards over here for where you place your feet while still keeping it slim in the middle. You still have room lean forward and backward if you want to do slides. The way they shape the deck just allows for some really good control when curving. The deck is the best thing that this board has going for its aesthetically pleasing. It's got a great shape and it's got the perfect amount of flex. It's not too flex or not too stiff so that you can still absorb some of the shocks and vibrations from the road.
Top speed: I managed to hit a top speed of 24.5 miles per hour. That is 1.5 miles slower than rated. But I can't really knock them for that because that's not that much slower and I have been hitting weight recently. I am probably around 190 pounds and the guy who tested this who weighs about 150 to 160 pounds. So 24.5 miles per hour is not too far from their rated top speed.
Range: I got a little impromptu group ride with my friends. That makes testing out the range on this board pretty fun. We were riding pretty fast the whole time, completely in high plus mode, so that did affect the range a little bit. I didn't got the 23 miles they claimed. The battery is pretty beefy and I think if you were to go slow you would be able to get 23 miles that they claim. In terms of voltage sag, it wasn't bad. It's only slow in the last mile or so, 10% of the battery.
Wheels: The wheels are rolling pretty good. They're so big and gummy. The big gummy longboard wheels like these are awesome. And with a little bit of flex in the deck, it really helps absorb bumps in cracks.
Braking: I like brake 4 for I was worries that would be too strong. But it's perfect for me. The fact that you can adjust your braking sensitivity is a nice touch. I think that's a feature that should be standard on every board nowadays.
https://www.youtube.com/watch?v=BtMZMpP7tIQ
No matter what other people say about Lycaon GR, you are the person who know your preferences and experience the joy of riding electric skateboard. You'll never know how much fun Lycaon GR will bring to you until you get your own one. The best time is now! Come and join the Lycaon Board rider group! You'll know what makes this board different from a lot of the other competition.