Buying a basic skateboard without skateboard accessories is like buying plain vanilla ice cream without any toppings. If you are looking to improve your riding experience as well as protect yourself, you may want to consider getting some skateboard accessories. Here are a few things you may need for your skateboard journey.

Remote Controller
Remote controller is a necessary accessory for an electric skateboard and its main function is speed control to avoid accidents caused by unwanted braking or movement. For most remote controllers, it's pretty simple to use. There are several technical parameters you need to be aware of before you use the remote controller, usually including the battery voltage and capacity, charging time, control distance, working time and so on. It differs a little bit for the remote controllers of different brands, but it basically involves all these items. For example, the remote control technical parameters specification is shown in the following (All the data used here are from the LycaonBoard).

Before using the remote controller, you also need to do some preparation work. Check the remote surface to get familiar with the user interface. Read the User Manual of Skateboard Remote Controller to be acquainted with specific operations. The design of remote controllers varies from brands. Some brands are also trying to upgrade the remote controller to add more functionalities and optimize user experience. So even if you have been skating for a quite long time. Do remember to fully understand the operation of remote controller before use. Speaking of the speed control, LycaonBoard usually consists of four speed modes: that is low speed (L), medium speed (M), high speed (H) and top speed (H+). And there are four kinds of brake intensity, that is 1/ 2/ 3/ 4 level. The higher the number is, the harder the intensity is. Besides speed control, you can also check how much battery you left and how much mileage you've got. From the remote control screen, you may obtain a lot of information you want.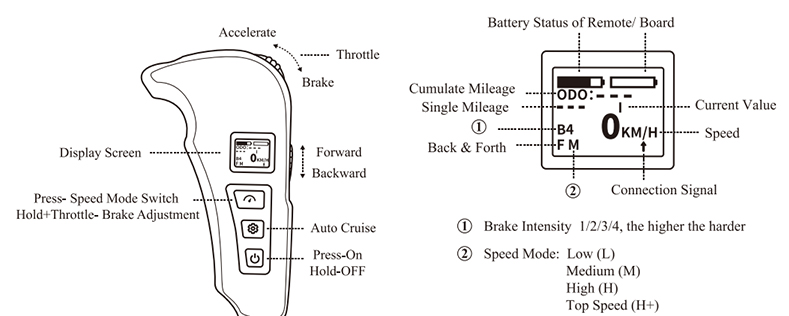 Another important thing about remote controller is the pairing. Normally the manufacturer will pair the remote and the skateboard. If it's not, you'll have to do it by yourself. The way to check if the remote pairs to your skateboard or not is to push the throttle to accelerate. If the wheels of the skateboard don't spin, then the skateboard and the controller aren't paired. First you need to turn on your skateboard and the remote. When you press and hold the on/off button of the remote, it will light up and that means you're ready to pair. Just press the on/off button to enter self-detection status. Connect power to receiver, then the receiver will be in searching status and auto-pairing with remote control. The receiver will exit pairing status if it failed to search for the remote.
T-tools and Wrenches
What should be attached the same importance as choosing an appropriate skateboard is the maintenance of the skateboard. Some people may spend considerable sums of money towards a better board, but forget to buy some necessary tools for the maintenance. We're talking about adjusting the wheels, bearings and screws. Regular maintenance to make sure all the parts are tighten enough and won't cause any hurts. It's also crucial to make your skateboard last longer.
You may be wondering which skateboard tool you should buy, T-tools will be something you are looking for. It's a T-shaped skateboard tool equipped with a ratchet that can be used for most skateboards. This is a all in one tool and it's convenient to carry with when you go out for riding. For different parts of the T-tools, it has different functions. It has a 9/16″ socket for tightening or loosening the trucks, followed by a 1/2″ socket for adding, removing or securing the wheel. Next, it has a 3/8″ socket to attach trucks. And that's not all – this tool features a Phillips head screwdriver, which is very useful because Phillips head is the most commonly used screwdriver. And all that comes in a compact size, so you can always take it with you wherever you go.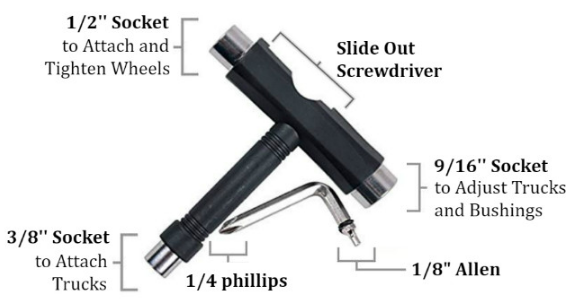 Another useful tool is Allen wrenches. The Standard Hardware 1/8" Allen Wrench allows you to make personal adjustments and fine tune your skateboard, tighten your trucks, and change your wheels. A classic L-shaped metal bar with a hexagonal head at each end, every skater should have this important tool in their kit! This Standard Hardware 1/8" Allen Wrench is light enough to carry with you, yet durable enough to get the job done. It's essential that your skateboard is well-maintained and properly repaired. To save your time and money, you must choose the best tools from the market to repair the boards fast and better. With the help of t-tools and Allen Wrenches, you can do it effortlessly.
Protective Gear
As you enter the electric skateboard community, you should bear in mind that safety always comes first. Skateboard has potentials risks like other sports and it might cause injuries due to loss of balance during skateboard riding. Some external objective factors will also pose potential dangers, like graveled roads, uneven streets or slanted areas. Therefore, it's extremely essential for riders to wear protective gear. Safety gear should be on top of mind when riding an electric skateboard. There are several protective gears to protect different body parts.
Helmet- Protective gear is incredibly important while skateboarding, among which skateboard helmet is particularly important to protect your head and avoid injuries. Riders with all levels of experience, form beginners to pros, should wear a skateboard helmet. There are plenty of helmet brands and styles for skateboards out there. Regardless of the helmet brand you choose, well-fitting skateboard helmets should include protective padding, not shift around while skateboarding, and fit snugly and low across your forehead. You should replace your skateboard helmet regularly, whenever your helmet looks or feels damaged from use. When you shop for skateboard helmet, measure your head size to make sure you get the right helmet size. You definitely don't want to feel the small helmet. The quality of the helmet is the first consideration and then you can choose the style of your references. Most people will choose the helmet that matches the style of the deck.
Pads & Gloves- When riding a skateboard, losing your balance is relatively common. You nay likely fall off your skateboard and hurt your joints. Fractures, bruises, cuts, and scrapes are some of the types of joint injuries that are very common among skateboarders. To reduce such joint injuries, elbow pads, knee pads and wrist guards are available to protect you and give you comfort feeling without limiting your movement. Gloves are also helpful to protect your fingers because when you fall down your hands may scrap against the floor. Buying these protective gears may cost you extra money, but safety is the highest priority and cannot be measured by wealth.
All these protection gears are more on protection than fashion. Similar to other sports, the need for protective skateboard gear is essential. This will help you prevent bruises, minor cuts, and severe injuries. Whether you're a beginner or a professional in this type of sport, it is advised not to go skateboarding without proper protective equipment.